I came to know Ron Bull, organizer of the Pennfest CoCofests held in Pittsburgh USA in recent years. He asked me if I was interested in being a special guest at his fest. After working out some finances, I agreed and made the long journey from Australia to Pittsburgh. The following text is my official report of that event.
________________________________________________________________________________________________________________

DATE: August 21-22, 1999 LOCATION: Holiday Inn, Pittsburgh, PA
A Report from "Down Under"
by Nickolas Marentes
Bzzzt! Bzzzt! Bzzzt! The alarm clock unashamedly alerts me that it is Thursday night midnight and time for us to get dressed and begin the long 14 hour drive to Pittsburgh from Jim Davis' place whom I had been staying while in the US. Surprisingly, I was in pretty good shape considering I only had about four hours sleep. Our plans were to get to bed by 6pm so that we at least got six hours of sleep prior to the long drive but the excitement of attending my first ever CoCo Fest kept me awake for an extra two hours.
Hello America!
I was getting used to long travel anyway, after spending 24 hours in a plane from Australia. My flight took me from my home town of Brisbane on the eastern coast of Australia to Auckland, New Zealand. A plane change here onto the big United Airlines 747 "jumbo" and I was on my way to the USA, first stop, Los Angeles twelve hours later. I was expecting a strip search at customs to ensue I wasn't carrying any illegal drugs or nuclear devices but I was passed without a bag being opened, just as well, the customs officer would probably take one look at my PAL based CoCo packed in my main luggage and immediately suspect it to be a bomb. Do you really think he would have believed I was taking it to display at a computer show for a ten year old discontinued 8-bit computer system? He would have had me arrested or died laughing.
After finally passing through customs, it was a quick dash to catch my next plane due to leave in twenty minutes. Five hours later, we touched down at Chicago and again, another quick dash to get to the next plane. I certainly had no time for site seeing on this trip! After finally arriving at Kansas City, I met up with Jim Davis and his dad who took me to their home at Nixa , just past Springfield. It was four in the morning before I actually got to sleep and didn't wake up till eleven! I must have been tired because I never sleep past seven!
"Set course for Pittsburgh - Warp 7!!"
The next few days with the Davis family were spent preparing for the Fest. We put together our table banners and collected our goods to take to the fest. Now with the car loaded and a bit of sleep under our belts we were ready to "Get our kicks on Route 66" as the saying goes.
There wasn't much to see during the first five hours of driving. By the time the sun had come up, we were well past the rush hour traffic of St. Louis and heading towards Indianapolis and admiring the scenery.
"Oh look at that huge corn crop... oh look another one... and another one... and yet another one... and..."
Counting corn crops was like counting sheep and it was starting to put me to sleep.
Friday Evening Setup
Finally we arrived at our hotel, The Red Roof Inn, just a block down from where the Fest was taking place. After unloading our non-Fest cargo and a quick freshen up, we headed for the Fest. It was Friday 5pm and Ron was opening the Fest doors for vendors to come in and setup.
First person I met was Ron himself. Amazingly, he looked just like he does in the earlier Fest photos I saw on the internet and he didn't look a day past 85 !! <grin>
Soon after, John "Sock Master" Kowalski and his wife Shanna arrive and a young boy named Steve! I always said John has achieved some amazing things but this caught Jim and I by surprise!
Ron then told us the first piece of bad news. There was no seminar room available! The hotel had filled it with gym equipment. The only solution was to cram the tables up in the smaller than originally anticipated hall to allow a small area at one end for the seminars.
The other piece of bad news which we learned later was that Chet Simpson, Russ Leblang, Marty Goodman and Stephen Disney were not going to make it to the Fest.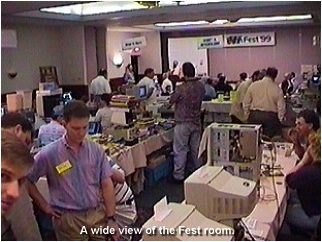 We quickly got to work setting up and preparing our tables. We constructed our pre-designed table banners and then began unfolding the two 7 foot Penn Fest '99 banners that I had made prior to leaving Australia. Both banners were designed to collapse and fit in my suitcase and they arrived intact. After a few false starts with some fishing line, I eventually had a banner suspended from the ceiling at both ends of the hall.
As time went on and the vendors started to appear, it dawned on me that there were an awful lot of people in here. It almost seemed like the Fest had begun! John Kowalski, his wife Shanna, son Steve, Jim Davis and I left around 9.30pm to get something to eat and after aborting the hotel restaurant with their "over-the-top" prices, we went down the road and ate at Denny's. We decided to head back to the Fest to see if anyone was still hanging around and to our surprise, everyone was still there! We stayed till Ron finally kicked us out at around 11pm.
Saturday
The next morning, Jim and I woke up early to get to the Fest with enough time to finalize our tables. I also had to setup for my seminar since I was the first seminar of the day. People started to roll in when the doors opened at 8 am. I of course didn't recognize very many people even though I had probably spoken with many of them via the internet.
My seminar started at 9.30am and I had taken the approach of "zero planning". I had an outline of what topics to cover and I had made up some overhead transparencies to display but overall, it was a case of make it up as I went. After apologizing for my Australian accent, I began to describe what part of Australia I had come from. I then covered how I purchased my first computer, a shining "battleship gray" TRS-80 Model 1 and the programs I had developed for it before describing how I then switched to the Tandy Color Computer. With the assistance of Larry Greenfield who expertly operated the computer display, I then outlined each of my CoCo achievements from my first CoCo1 game, "Neutroid II", up till my Pac-man tribute for the CoCo3.
After the history lesson, I then unveiled my new "Wolf3D" style game, "Gate Crasher", with Jim Davis doing the first demo for everyone and John "Sock Master" Kowalski doing a short 10 minute interlude to describe his 3D algorithm of which Gate Crasher is based. It was good to see all 3 of my official "Game testers" for Gate Crasher were there and participating in my seminar.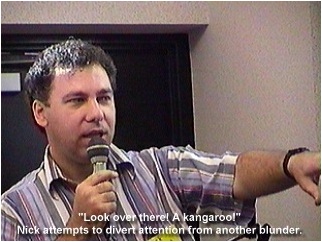 After the Gate Crasher demo, I unveiled my new book, CoCoNUTS, which is a collection of interviews of past and current CoCo developers that I had conducted via the internet over the last 12 months. I described the inspiration for the book as well as reading out a few excerpts from the book that brought on a few rounds of applause.
To close my seminar, I announced a raffle that I had arranged to help raise some funds to compensate some of the expensive $1500 airfare I paid to fly from Australia. I displayed a variety of prizes that I had brought with me from Australia such as several boomerangs, some Australian biscuits and Macedamia Nuts, a neat colorful map of Australia, a cap made from the Australian flag and several jars of Australian Vegemite!
After my seminar I was inundated with people cueing to purchase a copy of my new book, raffle tickets and several advance payments for my new game. The support from the CoCo people there caught me by surprise and I appreciated it very much.
The next seminar was to be by Russ LeBlang but unfortunately Russ couldn't make the Fest and instead, Ron gave a short demo of Russ's new CoCo2 emulator running on a PC with Windows. I didn't get a chance to catch this seminar but I was able to have a closer look at the emulator later. It seems pretty good and very similar to a lot of the emulators of foreign computers for the PC. It was a bit buggy in some areas, crashing intermittently but then, this was an unfinished version. Russ's plans are to eventually make a CoCo3 emulator as well. Now this I REALLY want to see and hopefully it will be able to run more than 10 percent of the CoCo3 games that the current CoCo3 emulator offers.
For most of the morning I was busy at my table so I couldn't tell what else was happening around me at that time. Before I knew it, it was lunch time and many of us went to "Eat and Park". On our return, I decided to take some time to look around at all the booths and take some video camera footage.
The Vendors
Keith March was there in place of David Graham with the MM-1 and he showed me the inside hardware of his tower based system.
John Kowalski, had his new HiColor routines on display whereby one can read in a standard PC format BMP image of 320x200 resolution and 256 colors and convert it to the HiColor format. The results were stunning as John cycled through many pre-converted images that he had loaded into a slideshow program he wrote that utilizes his 2Mb RAM CoCo3 with 4MHz accelerator. He also had his Gloom 3D demo on display.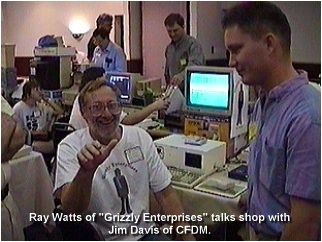 Jim Davis had much of the original CoCoPro! and Sundog software available for sale at bargain prices. Great games such as Zenix, Crystal City, Photon and The Contras were selling for $10 or less! Jim also runs the CoCo Friends Disk Magazine (CFDM) and was taking new subscriptions at the show. The magazine is an ideal method for CoCo users to stay informed with the goings on in the CoCo community while providing a variety of great bonus software and articles submitted by readers.
Boisy Pitre of Planet 9 Systems was there with his OS-9 into ROM upgrade.
Mark Marlette of Cloud-9 was there with a variety of gadgets such as his 512K CoCo3 upgrades using SIMM modules, an AT keyboard interface and what caught my eye, the new SCSI interface cartridge.
Allen Huffman was there as Sub-Etha Soft-WEAR and also representing the CoCo Preservation Society. Allen also setup the live cam which was operating for a few hours in the afternoon. I had been in touch with Allen via e-mail for some time and it was good to finally meet him. Unfortunately, he had to leave early on the Sunday to catch a plane back home so we were unable to get together very much.
Mike Guzzi was there with his CoCo controlled environment system for reptiles running under OS-9.
Scott Griepentrog was there as STG.NET. If you have an item you want to sell and want to advertise it on the web, call Scott!
Kenneth Baker was there with his brand new CoCo3's, CCR-83 cassette recorders and B/W TV's. He had his CoCo driven telephone line test unit on display. Wow! He should sell the frame as a CoCo workstation housing! Thanks for the CoCo3 Ken! After returning to Australia and swapping the power supply for a 240volt unit, it worked fine here and now I can view all those old CoCo1/2 games with "real" artifacted colors on an NTSC capable monitor.!
Brother Jeremy had his OS-9 Level 2 upgrade on display showing movable and resizable windows. I also had a closer look at the prototype CoCo3 he had purchased from Microware. Later, John Kowalski and I managed to put some RAM, a CPU and a BASIC ROM into the unit to fire it up and run some tests. After figuring out that the RGB port is wired in reverse to the production units, the CoCo came alive perfectly. We were surprised to notice that the image quality was sharper than production units, probably a result of some fine tuning on this unit by the developers. John ran some tests on the GIME chip and found it to be very unstable on several modes compared to production units.
Tony Podraza was there representing the "Glenside Color Computer Club" and I purchased a 12 month subscription. He had a neat CoCo on display running 2Mb of RAM, an internal fan and a external keyboard interface.
Ray Watts was there as "Grizzly Enterprises" where I saw his CoCo3 repack. Basically, he has taken the original top half of the CoCo3 and replaced it with a new boxier top that also houses the disk drives, an external keyboard interface and god knows what else. It looked very professional. He even put on his trademark grizzly rubber mask for the cameras... yikes!
"Team OS-9" was there represented by Don Adams and John Strong who kindly donated to me a copy each of Gems, Soviet Bloc and a Hprint Font Editor. Thanks John! I can blame you for the lateness of this report! <grin>
Karl Sefcik as "Bargeman Research Labs" was wearing his Fest standard "Fuddruckers" T-shirt and was offering CD-I/Star Trek information.
Jason Reighard as "CoCoMan", Dick Albers of SBUG, Paul Zibailia, Steve J. Shimatzki and Dave/Susan/Kris Poitras all had their tables filled to the brim with lots of assorted goodies on display, too much to describe. A CoCo collector could go crazy here!
I may have missed a vendor or 2 but that would only be because I cannot remember their names.
The afternoon was scheduled to have been a roundtable discussion with people throwing questions at Chet Simpson, John Kowalski and I. Unfortunately, as I mentioned earlier, Chet didn't make the show and both John and I were very much tied up running our tables that it was cancelled.
What did happen though was a talk from Brother Jeremy explaining how he was able to convince Kevin Darling to release the OS-9 Level 2 upgrade. He even performed a song he wrote and played to Kevin over the phone, pleading for it's release. That's what I call, "divine commitment"!
In the evening, after everyone had returned from supper, Brother Jeremy entertained us with his musical talents. He played his guitar and sang many popular songs, one in particular that I was very impressed with was his rendition of the great Australian classic from the 70's by Rolf Harris, "Tie Me Kangaroo Down Sport". He even "fudged" a pretty decent Australian accent! On'ya mate!
Enthusiasm was high with the doors finally closing around 11.00pm!
Sunday
Day 2 opened at around 7.30 am. Brother Jeremy's Morning Worship Service was scheduled for 7am but it was decided that this was too early for most so it was changed to a midday service.
The Fest continued as yesterday with people moving from table to table, checking out the wares and talking to other CoCo folks. I had a seminar scheduled for 10am so I was busy setting up for that. This time, I demonstrated the Digiscan Video Digitizer that I had designed in the early 90's. I setup a tiny conference type camera on top of the CM-8 monitor and proceeded to talk about the development history of the digitizer from it's early incarnations as the Rascan Video Digitizer up to the much refined Digiscan unit sold by Farna Systems in the early 90's. I also demonstrated the different scan modes including the 4096 "FlikPic" mode. The subtitle of "FlikPic" refers to the fact that these pseudo 4096 color images have an unfortunately annoying flicker and this led me to introduce the next seminar speaker, John Kowalski who then took over to describe his newly created HiColor image format that could display these images with very little flicker.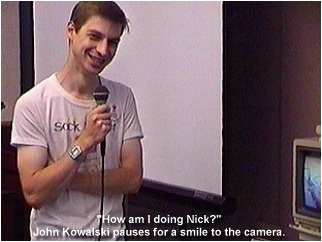 John gave us a description of the current limitations of displaying high color images using the CoCo3's 16 color mode. Then he explained his HiColor technique and gave several demonstrations of loading in standard PC type BMP images of 320x200x256 resolution and converting them to HiColor for display on the CoCo3. He even loaded one of my Digiscan 4096 "FlikPic" images that I had displayed earlier during my Digiscan seminar and redisplayed it in HiColor with greatly reduced flicker. The image quality is quite astounding, especially if you stand a few feet back from the monitor, the images look almost photographic. Once again, John proves that there are still new and challenging things that can be achieved with the CoCo.
With the seminars over, it was time for lunch. Many went out to eat but those that stayed were able to see Brother Jeremy's Worship Service which was quite interesting. I stayed and videotaped a large portion of it. I also managed to get onto the IRC computer and talk to a few people online. Many were asking about the fest and I gave them a short description of some of the events so far. Eventually, a group of us decided to go to "Eat and Park" to get something to eat.
When we returned at around 1.30pm, we found that many of the vendors were starting to pack up. Ron Bull also started the "No-Minimum-Bid Auction". This was a fun event and had people bidding for all sorts of CoCo paraphernalia. Ron even auctioned off the 2 Penn Fest '99 Banners that I had made and brought with me from Australia. Mike Guzzi scored the first banner for $25, that was more than the cost of making both of them! The second one went to Dave Poitras for an incredible $45! I was also asked to sign each banner. I asked each buyer to send me a photo of the banner setup in their home.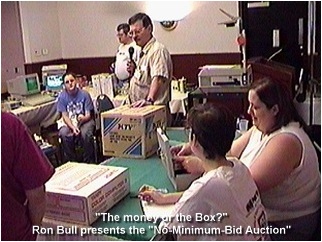 During the auction, Larry Greenfield brought over to our table his Fujitsu FM-7 computer. This machine was a dual 6809 machine released in the early 80's. The specifications for this were incredible and left the CoCo 1/2 of the era for dead! John Kowalski and I decided to open it up and have a look at the motherboard. Once opened, we saw a motherboard stuffed full of chips. It was very densely populated. There even was a satellite board with a dedicated sound chip as used in the Tandy Sound and Speech pak. We tried to locate the video chip but all we could find was a big multi-pin chip (larger than the 6809's!) with the markings 68H010. Was this a 68K CPU being used to generate video?
Eventually, the auction was over, all the vendors had packed up their items and the hotel staff had begun the cleanup of the room. Everyone said their goodbyes and begun their journey home. A group of us decided to go out to eat and it seemed appropriate that we go to the "Outback Steakhouse", an Australian style restaurant.
After a lengthy wait for a table we all finally sat down and examined the menu. Strange, I didn't recognize many of the items on the menu. Sure, they had cliche Australian names like the "Bloomin' Onion - An Outback Ab-original from Russell's Marina Bay", which I had never heard or seen before. The "Aussie Cheese Fries" which I also haven't seen, not to mention that we don't call them fries but chips. "Kookaburra Wings", "The Michael J. Dundee" and "Prime Minister's Prime Rib" (wouldn't we love that!). Either I'm not really from Australia or someone is really turning up the "tourist blurb" lever! I haven't seen ANY of these things before. Where were the Meat Pies and Sausage Rolls? What about the good old greasy "Fish and Chips", professionally rolled up in white "butchers paper"? Wherever the menu ideas REALLY come from, the food was excellent and the company even better!
We had quite a crowd with us, Ron Bull and his wife, Jim Davis, John and Shanna Kowalski with their cute son Steve. Scott Griepentrog, Paul Zimbailia, Tony Podraza and many more whose names I cannot remember due to memory loss after eating some bad MacDonalds on the drive home the next day. Never-the-less, it was a very memorable evening with lots of laughs and a fitting farewell to the Fest. Oh, and I appreciated everyone pitching in to pay for my meal. I must have looked stupid getting up wondering why we were leaving without paying. <grin>
After we all said our final farewells, Jim and I headed back to the Red Roof Inn to prepare for our trip back to the real world. Our plans were to get up and leave around 3.00 am in the morning to beat some of the morning traffic. Of course, the biggest flaw in having a plan is that nothing ever goes TO plan. Instead, John Kowalski and Scott Griepentrog met up with us at our hotel room were we exchanged a few hours talking about CoCo things while we setup a novelty game of darts. It was good to just get together quietly after the Fest activities and just get to know each other better.
Time to go home
Brrrrrrrrrrrrr! (Oh how I hate that alarm clock! It's probably an Intel too!)
3 am and time to head back. The car was pretty much packed so all we had to do was grab our bags and go. We followed Scott Griepentrog in his vehicle up until Indianapolis where he branched off for his home. We on the other hand had another 6 hours driving ahead of us. Oh god, here we go again, corn field scenery!
We arrived at Jim's place about 8pm. After a good nights sleep, followed by another 3 hour drive to Kansas City, we said our farewells and I was on a United Airlines Flight to Australia.
Now as I write this reminiscing the entire experience, I can't help but feel it was but a dream. After all those years with the CoCo, never able to attend a Fest (and in those days the attendance was close to 10,000!), only being able to read about them in the Rainbow Magazine, never being able to meet any of the true heroes that helped shape the CoCo, I find it hard to believe I actually did it! I hadn't physically seen another active CoCo user for almost 10 years and in this trip I was surrounded by a room full of over 60 of the most dedicated, friendly and supportive CoCo users in the world!
Jim Davis and his parents were exceptionally supportive allowing me to stay with them during my stay in the US. I am at ends trying to find a way to repay them for everything they did for me. These people are some of the best people I have ever met in my life.
I wish to also thank Ron Bull for putting on the Fest and for helping collect some funds towards my airfare. I wish him all the best again for next year with his biggest, best and final PennFest 2000!
And talking about the collection of funds, I wish to thank all those people who donated money towards my trip. I greatly appreciated the support.
Some have said that I was the "star" of the Fest. As flattering as that may be, I don't look at it that way. Everyone who attended is a star in my mind and without them, the Fest would have been pointless. While the Tandy Corporation was able to kill the CoCo overnight, it will take a lot longer to kill the sense of devotion, friendship and comradery that the remaining CoCo community represents. And while in the next 5 or more years, the CoCo's candle may appear to die out completely, the memories we each hold of those golden days will remain with us forever.